The RAID "Dino" Steering Wheel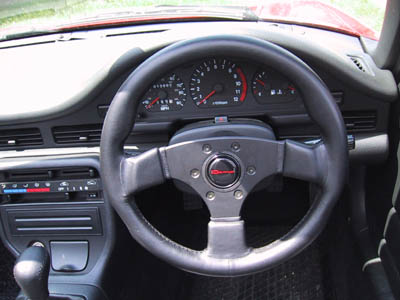 This RAID steering wheel is not only beautiful, but:
Is very grippy (the original steering wheel was somewhat "sticky" and too large).
Does not need an adaptor plate (the hub aperture fits exactly).
Is slightly eccentric, allowing good line of sight to the instruments.
Provides good access even for large drivers.
Allows problem-free connection of the horn button.
Sold by: D & W
Part Number: 250707 (320 mm)
Manufacturer: RAID
Price DM: 309,95 = Euro: 158,47 (as at July 2001)

Description:
"Dino" steering wheel of 300 mm or 320 mm diameter. Quality hand-stitched calf leather. Ergonomically shaped. Nice and sporty. ABE(?). DINO Logo.

Diameter / mm: 320
Colour: Black